ILFM Conference 2018, Birmingham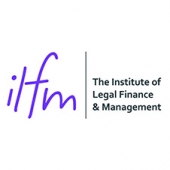 2018 marks the Institute's 40th anniversary. To help celebrate, our annual one-day conference and AGM will take place in Birmingham on Friday 16 November 2018. The event will take place at Austin Court, which is part of the Institution of Engineering and Technology. This is a unique, listed building in the heart of Birmingham city centre. It is a beautiful blend of modern design and period features in an inspiring waterside location.
The Institute understands the challenges you and your firm face and the conference will bring together a variety of professionals who recognise the importance and share the views of legal finance. The day will give you the opportunity to connect, to be inspired and to find answers to the daily challenges you face. Whether you are supporting your firm and its COFA or leading the way as a practice manager, the Institute's conference will give you what you need to perform your job efficiently.
The conference will feature expert speakers on the practical and real-life dilemmas faced by today's accounts and management teams. You will hear about the new SRA Accounts Rules and how the changes to the Accounts Rules will affect firms, clients and your roles. The conference will particularly engage members who have the pivotal gatekeeping roles of legal cashier, COFA and practice managers – these roles form the lynchpin of financial governance.
Legal finance compliance is critical, so we shall examine the impact of the changes on COFAs and on the industry as a whole.
There will be expert views from a Reporting Accountant. These will include the main pitfalls and risks of protecting client monies, acting as a bank and how the principle-based SRA rules will change their approach.
You will also meet and hear from our CEO, Tim Kidd, who will explain the Institute's progress in increasing the support and value it offers to all members. Our members do a great job in often difficult circumstances and Tim will demonstrate how we are working to raise the profile of our members within the industry and he will outline changes to our student offering.
GDPR has been a massive focus for all businesses recently, so, with the help of Keith Markham, an experienced commercial solicitor and GDPR expert, we shall look at "where we are now," a few months after the 25 May deadline, at what has happened since and at how things are working.
There will be an opportunity to ask questions of our expert panel, which will consist of the speakers and Institute members.
After the conference, there will be a short and informal opportunity to have a much-deserved drink and to chat with other members, speakers, members of the Institute's Executive Council members and our CEO.
What to expect
Today, more than ever, firms are hungry for commonsense support and guidance on how to deal with the changing landscape of legal finance. Our prestigious line-up of speakers includes the following:
The Director of Policy from the SRA will take the opportunity to talk about the latest SRA Handbook changes and how the SRA is progressing with its theme of "looking to the future."
Following feedback from last year, our legal VAT expert, Darren Whelan, who is also our VAT trainer for law firms, will investigate and demonstrate some of the everyday conundrums our members face with VAT and give us some valuable examples of solutions and outcomes.
The Access to Justice Foundation will join us again to update us on their great work and to celebrate the substantial donations they have received as a result of your Institute's work with them. To complement the great speakers we have already secured, we are putting the final touches to our line-up, so watch out for more news in Legal Abacus and on our website.
Additional Information/Speakers
Birmingham has excellent rail links across the country, including the Virgin West Coast and Cross Country. Just 1h22m from London and 1h28mins from Manchester. Best time to look is about 90 days before departure, that's around mid-August.