Lucky week in the life of a London networker

The recent LSN London networking event held on the 14 November at the Anthologist bar in the centre of town was a winner on all fronts as it saw record-breaking numbers attend and one happy guest leave with a special prize care of SRC.
The evening attracted 355 guests from 137 firms, LSN's largest gathering to date and a fantastic end to their 2011 events calendar following hot on the heels of their Operational Leaders in Legal Conference the week before.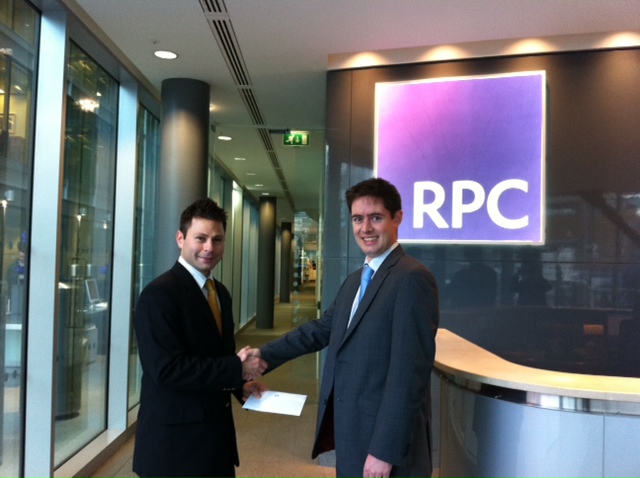 But it was Andrew Barker, Finance Business Manager from RPC who received the best news of all when he checked his privilege card from the night to find that he had won a red letter day courtesy of prize draw sponsors , SRC - on his birthday!
"I've been to a few of the LSN London networking events before and always really enjoyed the fact that you can catch up with others in a sociable environment. Given that people are always on the move in the legal sector (myself included) it's nice to have this opportunity to see some familiar faces from the past as well as make some new connections. I'd missed the first shout by LSN so I was delighted when I checked my desk to find that I had the winning number in my privilege card which coincided with my Birthday, clearly a lucky day for me!"
Here is Andrew receiving his prize on his first day at RPC having recently moved from Clyde and Co - what a great start to a new job!
The evening was supported by a selection of LSN's networkpartners including Elite, LexisNexis, Ambition, Access Select, SRC, ADERANT, Balance Recruitment, Concur, G3 Telecoms, IntApp, Linetime, Total and ZyLAB.
Why not view the photos here in our flickr album along with the video of the night.