LSN's 21st London Networking Event goes off with a bang

This week LSN celebrated a landmark achievement of 21 London Networking events! On 11 November 2013, The Anthologist bar in the city was transformed into a legal hub – as 343 of you braved the wind and the rain to mingle with your peers.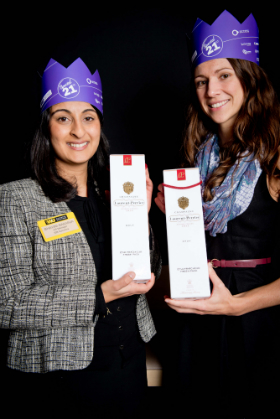 We're very happy to say the networking event had a great turnout, with many enthusiastic guests staying long after the complimentary drinks had finished … no doubt discussing various hot topics within legal business services!
The purple spirit was in full effect and we wanted to make sure we celebrated in true LSN fashion – which of course called for purple party hats, our 'Purple Pleasers' (which had many of you very intrigued) and a large purple cake – presented to a very surprised David Sparkes!
The evening's key sponsors were Western union business solutions, Access, Linetime, Tata consultancy services, ITS, Balance recruitment, Phoenix, Econocom, LexisNexis, G3 Comms, HL TRAD and Canon, who all value the opportunity to be able to engage and build relationships with decision-makers and influencers from top law firms.
The lovely people from Access also provided the fantastic prize of dinner for two at The Shard and the lucky person in question will have the winning number of 214! Is this you? Have a look at your purple passport from the night and then please get in touch with Sarah Cox via email (sarahc@lsn.co.uk) to claim your prize!
Two lucky law firm people also won a bottle of champers on the night. Bhavini Nakarja, HR Manager at IBB solicitors was extra lucky – because she was handed the winning ball marked with a cross by Carl from Mitie who was quick to grab it. No word yet on how much he may now regret this lovely gesture!
Were you there?
See if you can spot yourself in the photos and let us know what you thought of it in the comments below.