From Birmingham to the skies

The Legal Support Network team headed to Birmingham on Tuesday 24 March for the first round of regional events of 2015.
We welcomed 55 law firm guests from 32 different law firms along with 10 networkpartners at the Colmore Bar and Grill in Birmingham's Colmore Row.
We were lucky enough to have a great prize to give away courtesy of Konica Minolta of a hot air balloon ride for two people with champers to a destination of the winner's choice (well not Barbados as one guest asked).
Mark Thomas from Konica Minolta was on hand to pick out the winning name. The slow claps and adrenaline echoed through the Colmore Bar and Grill where the lucky winner was revealed as Gurdeep Chayra from Slater & Gordon. Gurdeep was thrilled with his surprise win and had this to say about the event and winning on the night: 'The Legal Support Network event was great. It provided an opportunity to meet with lots of people who work within law firms and provide the help and support to help law firms to operate. The added bonus was winning the hot air balloon prize, I was really pleased and cannot wait to fly up into the sky!! Thanks again for a great evening.' Congratulations Gurdeep enjoy!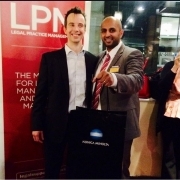 Thank you so much to Konica Minolta for helping our guests take to the skies this March (we're not jealous one bit..nope..definitley not..)
It was really great to catch up with lots of familiar faces and some new ones in Birmingham, we hope to see you all again in October. Next stop Leeds.
What LSN events are up next?
Leeds law firm forum, 24 March, 6-9pm
Legal Practice Management conference, May 19, 9.00am-5.30pm