Community
Items tagged with community will appear on the community homepage

On 2 December the UK's leading events professionals gathered at the PPA Connect awards 2014, presented by writer and comedian Lucy Porter.

Monday night (10 November) saw the last London Networking Event of 2014 go off with a legal networking bang (quite literally, so close to bonfire night).
300+ guests descended on the Anthologist bar on Gresham Street for an evening of legal chit chat, intermingling and networking over some nibbles and drinks.
Connecting | Informing | Sharing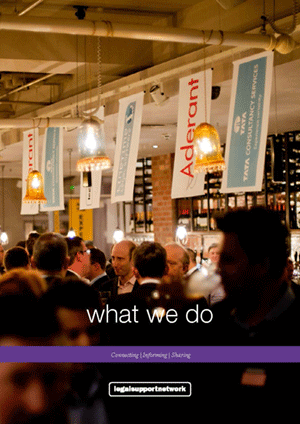 Download the PDF above to learn more about what Legal Support Network does.
Featuring a run down of:

14 July 2014 saw the Anthologist bar, Gresham Street in Central London once again transformed into the location to be for legal chats, discussions and networking. We saw 250 law firms guests from 87 different law firms attend for a night that went aviation theme crazy!

This Monday we hosted our July networking event at The Anthologist Bar in the city of London where it was transformed into a summer hotbed of legal chats and discussions!
14 July 2014 saw over 250 law firm guests checked in from over 87 different law firms. The seat belt signs were on, the goodie bags were packed and the estimated time of arrival was 6pm.

The results are in for LSN's summer London Networking Event prize draw!
Check your boarding pass from the night – you may just have won Konica Minolta's cork-popping 1930s De Havilland Rapide flight over London, for you and one lucky friend!
If your boarding pass for the night was no.150 – get in touch!
Call Phoebe Brewster on: 020 8322 7797 or email: phoebeb@lsn.co.uk
Good luck!